I loved doing this project! The research about carnival helped me connect with so many moments of my childhood. Also, it was great to work for the first time with my sister
Samira Oliveira
. She is a graphic designer graduated in visual arts and she is just awesome! I love her vision and the way she finds balance and elegance to my crazy ideas.
The process of collage was the perfect choice in this case. We grouped our memories and ideas creating a completely new image, and I'm very satisfied about the result achieved.
Tirabadori's first Collage Illustration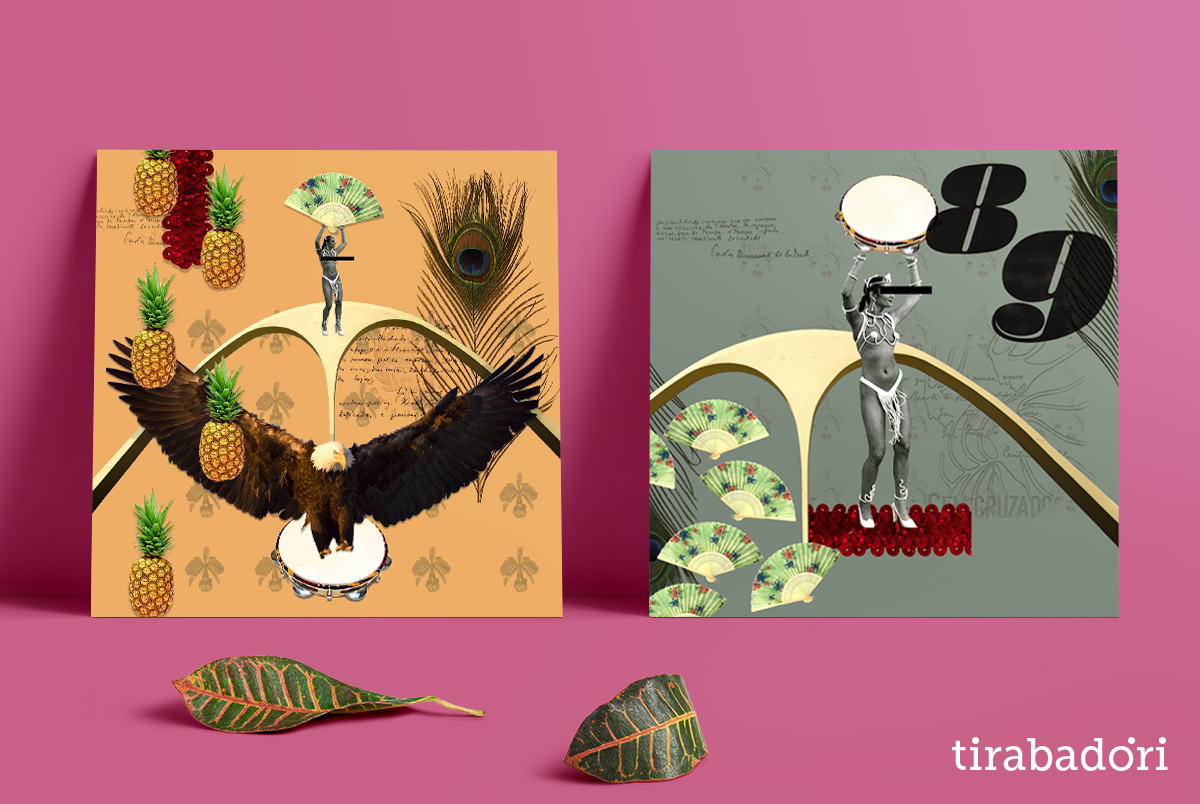 We worked with visual elements from the 80s/90s. Reflecting the research, we have hand fans, juxtaposed layers, an animal representing schools icons, elements from the costumes (feathers, sequins), playing with scale (small woman, big animal, huge feather), the repetition of elements creating a pattern (the orchids in the background) and of course, the samba dancer, in this case Luiza Brunet, a very famous "queen of the drums".
Some symbols are harder to understand but exist to express our memories. The quotes in the background and the orchids flowers come from the money bills of that time. We remember all the discussion about the cost of the carnival party in contrast with Brazilian poverty. Also, Brazilian currency changed a lot during those years due to the huge inflation and instability in the economy. The handwriting visible in the background of the images comes from money bills produced during those decades.
The black stripes illustrate the transition from the dictatorship to democracy in Brazil, 1988. Aiming to express absolutely freedom after so many years of repression, the carnival of 1989 featured people totally naked and parade cars challenging the politics and the church. The non-authorized use of christian elements was banned that year, and the naked genitals were forbidden permanently. The pineapples are also a reference to the dictatorship years, as the word pineapple can be used as a slang for "problem".

The colors and the composition were chosen to give a feeling of nostalgic happiness. The final result are two prints that can be used in a set or separately. This was the first work created to Tirabadori, the next project we are working is a Chinese print for tea boxes. I'll speak about this in another post. Thanks for reading!